Arminius, 2012.
Book formed of one single archival pigment print on Baryta. Dimensions closed: 21x21x5 cm. Dimensions open: 14x0,21 mt. Lenght of the table: 7 mts.
Edition of 3 + 1 artist's proof.

Arminius while evoking Rome's history, aims to trace a path amongst identity, memory and photographic representation. It lays on the parallel between photography and history, both incapable of being all encompassing. Due to their technical properties, pictures only show limited parts of the scene in which they were taken, they also convey a realistic feeling, for which, the spectator has the illusion to possess reality as a whole.
Rome's history is introduced through one of its specific segments: the surrounding walls, as a metaphor to identify the city.
The book is a collection of 68 plates arranged in a long, folded strip, stressing narrative fragmentation. Contemporary pictures are alternate with archival ones. They are coupled in order to create immediate visual connections between present and past. Images are not lined on geographical or historical basis.The absence of chronological order makes the viewer give his own interpretation to recall history.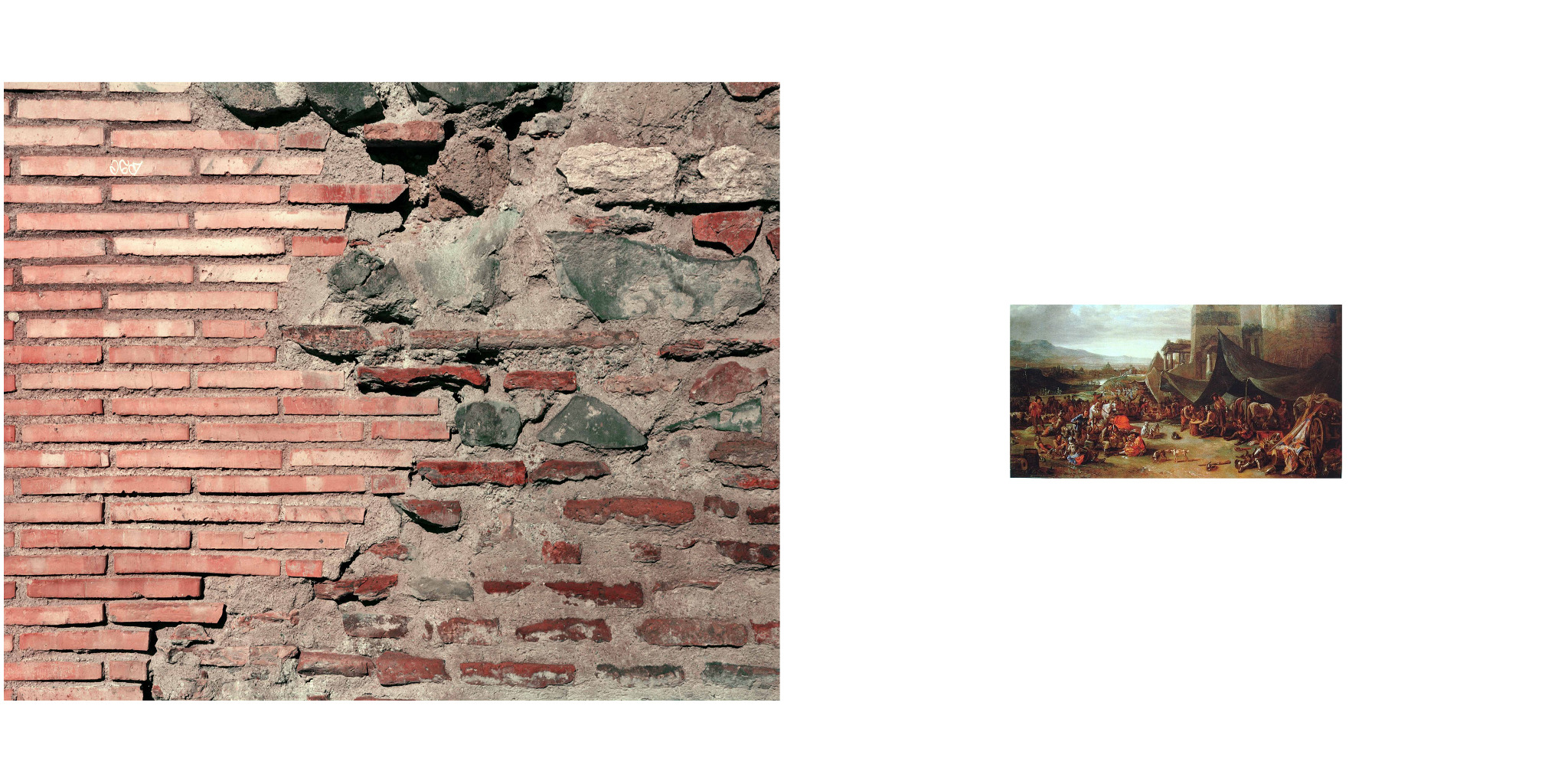 The book has to be read on a specific table long 7mts. On the stand, the audience participate to the creation of shared memory: the table is shorter than the strip, making impossible to open the book completely. The audience is forced to create every time a different edit, changing the order of the pictures, therefore underlining the personal, arbitrary aspect of reconstructing bygone times. The same act of the photographer: an arbitrary choice brings him to break down reality. Narrative is not all-encompassing.

Arminius, as title, supports the interpretation of the work.
He was a chieftain of the Germanic Cherusci. He was born in a land on the edge of the Roman Empire and he was trained as a Roman commander. While fighting for Rome, he organized an allied coalition of Germanic troops and he ambushed and annihilated an entire Roman army. As he betrayed Romans from the inside, photographic representation defeat itself in the attempt of depicting. Its narrative lacks the exhaustiveness it promises at first glance.

Remnants are hints of buried times, the pretext for history to emerge. Fragmentation pervades Arminius layers. It shows the inability to contain the shadow of the past in one observatory movement, being too wide for perception. Nonetheless we dispose of material remains of life, to outline an incomplete history of Rome.







- Freely inspired by C. Augias, 'I segreti di Roma' -